Today's world is moving towards virtualization and globalized workplace, demanding environment, organizations need new ways to identify the right solution to become competitive in the industry, new way to innovate, allocate resources and remodel processes leveraging the latest trends. That's where smart strategies pay off.

We'll examine how technology can help you steer your business toward improved efficiency and optimized resources to help overcome market challenges - Our Dual skilled domain expertise with IT experience will help you "derive your strategy"
Our services: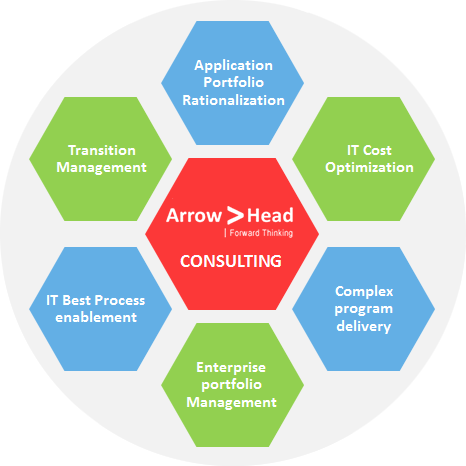 Application Portfolio Rationalization
Our systematic approach to portfolio rationalization helps determine the best option for each IT application or asset analyzed based upon its value. Options range from retention, to application phase-out, to remediation/rewrite or outsourcing. Services include:
Align business and IT so that IT works on what's most valuable.
Establish a quantitative baseline of the efficiency and effectiveness of the current application landscape for better decisions.
Effect changes in the application portfolio (including retirements and consolidation) for immediate payback.
Provide valuable input to senior management to improve IT organizational effectiveness.
IT Cost Optimization
Cost transparency enables you to make informed decisions on where costs can be reduced without compromising on business transformation. Using multiple tools and accelerators, we can help you meet cost-cutting objectives while preserving ongoing business performance.
Complex Program Delivery
Using the latest technology tools and business best practices, we apply professional program management rigor to enable the successful delivery of complex change programs throughout an organization.
Enterprise Portfolio Management
Includes alignment of the project and program portfolio against the enterprise strategy to ensure maximum return on portfolio investment. We focus on consolidating the IT landscape to minimize cost of ownership and optimize the IT landscape to provide the right support to business needs.
IT Best practice enablement
Our consulting experts understand what the client needed to support challenging business needs. Our experts come with best practice templates and examples in the market to enable best practice processes. Our Process Optimization Program (A-POP) will help the clients IT organization to run best practice processes to turn "Process Driven" Organization than "People Driven Organization".